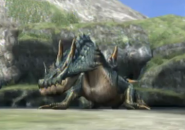 Lagiacrus is the serpent of the oceans. It mainly preys is epioth.Lagiacrus is very fierce when it comes to it's territory; lashing out at it's own kind and other monsters of the deep.Hunters must be carefull when hunting lagiacrus because of it's electric attacks.Lagiacrus has a natural enemy The King of the Sky Rathalos.These 2 monsters are in a constant fight for food,territory, and life.Watch the video to see the things i am talking about.
thumb|300px|right|lagiacrus
Ad blocker interference detected!
Wikia is a free-to-use site that makes money from advertising. We have a modified experience for viewers using ad blockers

Wikia is not accessible if you've made further modifications. Remove the custom ad blocker rule(s) and the page will load as expected.